Anangu Mental Health and the NPYC Ngangkari Program
As part of the online resources they provide through their Ngangkari Program, Ngaanyatjarra Pitjantjatjara Yankunytjatjara Women's Council Aboriginal Corporation (NPYWC) have produced some fantastic animations relevant to staying mentally healthy the Anangu way.  One animation, Woman Feeling Scared, is the story of a woman who was feeling very frightened one night. She stayed up all night because she couldn't sleep and started seeing things and hearing voices in her head. She awoke the next morning feeling very weak and tired. Her family, worried for her, took her to the health clinic for help. With the help of medicine from the clinic, the pastor, the traditional healer, as well as love and support from her family, the woman found a way to get better. Now she can sleep peacefully at night.
(Excerpt from www.npywc.org.au/category/ngangkari-resources)
Minyma Ngurlunytju – Woman Feeling Scared (Ngaanyatjarra) from Uti Kulintjaku on Vimeo.
The Uti Kulintjaku: A Mental Health Literacy Project
Uti Kulintjaku (UK), which means 'to think and understand clearly' in Pitjantjatjara, is a project of the NPYWC Ngangkari Program, in partnership with the Central Australia Mental Health Service.  The UK team includes Senior Anangu Consultants and mental health professionals who have been participating in a series of workshops around mental health. The aim is that by participating in these workshops together, Anangu and mental health professionals can develop a shared understanding and language for talking about mental health. Furthermore, this shared knowledge and language will be shared with others through a series of resources that will go out to mental health professionals and Anangu in the remote communities that NPYWC service. Visit the NPYWC website for more information about the UK Project.
The latest project created through the UK program is an app for combating mental health and trauma issues in Aboriginal communities, particularly among young people. NPYWC collaborated with the team behind Smiling Mind to create recorded meditations in Kriol, Ngaanyatjarra, and Pitjantjiatjara languages.  The app, which combines the skills of traditional healers with interpreters and western mental health professionals, is being trialled in remote Central Australian schools.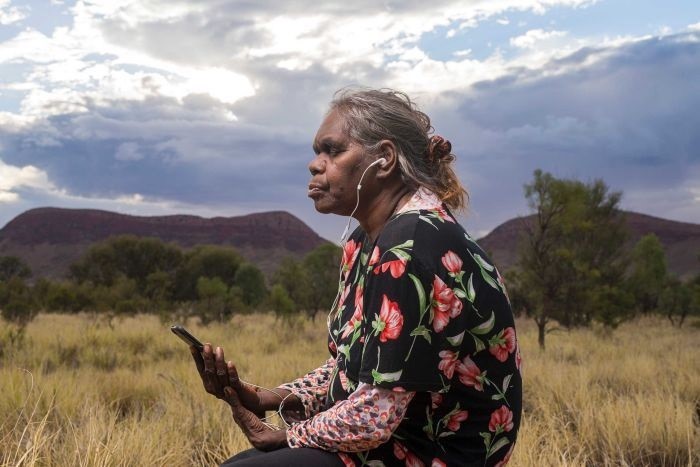 For general information about NPYWC, visit their website.
Tjarrtjurra and the Women's Law and Culture Centre in Balgo Community
There is an article available on the ABC website, called "Living the Hybrid Way," written by the Kapululangu Women's Law and Culture Centre about traditional healers in the Kimberley, the Tjarrtjurra women and the Maparn men.  It describes "two different systems but they belong together. They are separate and complementary. The women's side puts the spirit back into the body and the men work more with cleaning the blood and shifting blocks inside the body."  They write about how these healers are "powerful and effective" and are "vital contributors to the health" of those in their community.
Learn more about the Kapululangu Women's Law and Culture Centre and Women's Law and Culture Camps.
Author: Jessie Marcotte