---
Fremantle Women's Health Centre
---
Our Founding Story
The Fremantle Women's Health Centre was founded in 1985 by Ronelle Brossard, a child of migrants. With a nursing and teaching background, Ronelle became concerned that women in the community, especially migrant women, were not having regular Pap smears (now known as cervical screening) and didn't know how to carry out breast self-examinations. Ronelle found many women were reluctant to see male doctors for women's health issues, especially women from immigrant communities and Aboriginal women.  Back then, there were also very few female GPs in Fremantle to assist with women's health matters.
Inspired to change this, Ronelle set up a women's health service in 1985, originally housed in one room in the Fremantle Migrant Resource Centre. As well as helping with the practical aspects of running women's health clinics using her nursing background, she recruited other women volunteers to assist with the service.
In 1988, funding from the Western Australian Department of Health and the Lotteries Commission enabled the service to move to its own premises on South Street in Fremantle. The Centre was officially opened as the Multicultural Women's Health Centre on the 22nd of June by the then Minister for Health, The Honorable Keith Wilson, MLA.
From the initial focus on women's health for migrant and refugee women, the Centre expanded its services into perinatal counselling in 1991 and general counselling in 1993. In 1995, the centre was renamed Fremantle Women's Health Centre to be more inclusive of all women in the south-west metropolitan corridor.
Today, FWHC is a trauma-informed women's health centre, with a welcoming environment providing high quality, professional, affordable, and accessible health, as well as resourcing and wellbeing services.  It also provides systemic advice and advocacy on women's health issues and is involved in regional leadership and governance initiatives.
We would like to thank Ronelle for her vision and her work in founding the Centre. She achieved her goal of creating a safe space where women can access high-quality care in a nurturing environment. We would like to also thank those staff, board members, students, and volunteers who have made the Centre what it is today.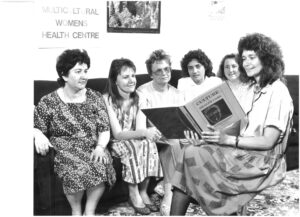 ---
About the Centre
The Fremantle Women's Health Centre is a not-for-profit, community health organisation committed to high-quality, professional, affordable and accessible health and wellbeing services.
Who can access FWHC?
Women 16 years or older, who live or work in Fremantle, East Fremantle, Cockburn, or Melville in Western Australia
We provide a range of health promotion, prevention, screening and treatment services for women for a range of sexual, reproductive and mental health issues. Our services are provided by experienced counsellors, doctors and nurses. You can read more about our services here.
---
Our Vision
That all women enjoy gender equality and good health.
Our Purpose
Be a welcoming place where women learn to prioritise their health and wellbeing to live better lives.
Our Values
Integrity
We are open, honest and accountable and work hard to develop relationships built on mutual trust with all our clients.
Woman-Centred
We are dedicated to providing women-centred care, valuing individual needs and expectations to work with clients as equal partners in their own wellbeing.
Responsive
Responsive, by providing affordable services and facilitating equal access to services for all women regardless of age, ability, religion, culture, sexuality or socio-economic circumstances.
Inclusiveness
We are an accessible centre for women who face barriers to good healthcare.
Collaborative
We work alongside our clients, carers and partners within the community to provide high quality health and wellbeing services.
Our Focus Areas
Positive Mental Wellbeing
Support positive adjustment to parenting during the first 1000 days and offer recovery led services with women aged 16 years and over.
Women's Sexual and Reproductive Health
Working to prevent, screen and provide early intervention to improve health outcomes.
Gendered Violence
Normalising conversations about the impact of gendered violence and supporting healthy relationships.
Economic Insecurity
Prioritising women who cannot access fee-for-service. Empower, encourage and support women experiencing economic insecurity to better manage their own health-care needs.
---